With the recent news of yet another child being left in a hot car, Infalurt's system is a welcomed Aussie innovation!  A child car seat alert system designed to help save young lives, Infalurt functions as a warning device, alerting a parent or guardian if a child is left behind in a vehicle. Using sophisticated sensor and communications technology, Infalurt triggers an alarm when a parent or guardian (and their alert key fob) moves over 10m from their vehicle while the child remains in their car seat.
You may be surprised to hear that according to the "Never Leave Kids in Cars" campaign, more than 5,000 children are rescued from unattended cars – according to Kidsafe, in Victoria alone paramedics responded to nearly 1600 callouts in 2017-2018.
Then again – You may not be surprised.  This topic seems to regularly make it's rounds on social media in the last 12 months, let alone with over a thousand children who've died globally since records began.  So why is it happening?  The answer surprises many.
Experts say
"Our short term memory is limited and fragile. If you can forget your keys, or to buy milk, you can forget your child – in the moment your brain is not making a decision on how important the object is. No-one has a perfect memory and we can all think of examples of that. It's not bad parenting, it's how we are built."
ASSOC. PROF. MATTHEW E. MUNDAY – Attention and Memory Program Monash Institute of Cognitive and Clinical Neurosciences
How does Infalurt help?
Infalurt is a child seat alert system with an incredibly unique design that prevents false alarms.  This unit is set apart in the industry- which is ultimately the cause of frustration for most consumers looking into these types of safety devices.  The Infalurt uses sophisticated sensors, along with communications technology, that triggers an alarm when a parent, guardian or carer moves over 10 meters away from their vehicle – it senses that the child is still in the child seat, causing the FOB on the carer's key ring to alarm.
The Infalurt solves nearly all of the problems relating to this issue for both parents, and organisations providing child transport services – even to the point of making multiple FOB's and up to 4 child seats working at one time.  This great Aussie innovation is not only designed right here in Australia, but is also Australian made – including the electronics.
Who uses the Infalurt?
Obviously parents and carers are the most common end user of the Infalurt, however organisations specialising in child care and transport have recently shown great interest to meet changing internal policies around child transportation.  This is a smart move, and welcomed by the public particularly after headlines of children being accidently left in buses while attending child care centers and transport services.
Tested and endorsed
After running both sled testing trials and fair use testing, ACRI are proud to endorse this brilliant device, the Infalurt.  This ingenius Aussie invention will save little Aussie lives.
With thanks to the APV-T Test Centre in Victoria, the Infalurt has been tested to the child restraint standard AS/NZS 1754:2013 and complies with the requirements of the accessories standard AS8005:2020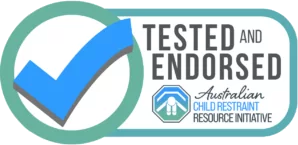 How does the Infalurt work?
Watch the installation instruction video on the right to see how to setup and prime your Infalurt.
The Infalurt system uses a combination of capacitive sensing, battery operation and short-range ISM radio communications. Together, they provide a reliable monitoring system that will alarm when the parent's key fob goes out of range of the child.  The capacitive sensing prevents false alarms, and the ISM radio means that there is no reliance on other systems like external software, or WIFI.  
Resources
For more information check out the following resources: